The Drop – Club and Party drugs
The Drop is BDP's one-stop-shop for information and support for people who use recreational and party drugs.
Not everyone who drinks or takes drugs has a problem, but we know that the more knowledge you have of the effects and risks of alcohol and other drugs, the better you will be able to make informed decisions about your own use.
What we do
Harm reduction advice for people who use party drugs
1 – 1 support for anyone who would like to gain some control over their drug use
Access to extra support and treatment options
Support for people concerned about the drug use of a friend or family member
Outreach services at events
Drug awareness training for staff (bar staff, security staff etc) in venues
Contact The Drop
Want to get in touch?
Student?
Currently studying in Bristol and worried about your own or someone else's drug and/or alcohol use? Find out more about how we can support you here.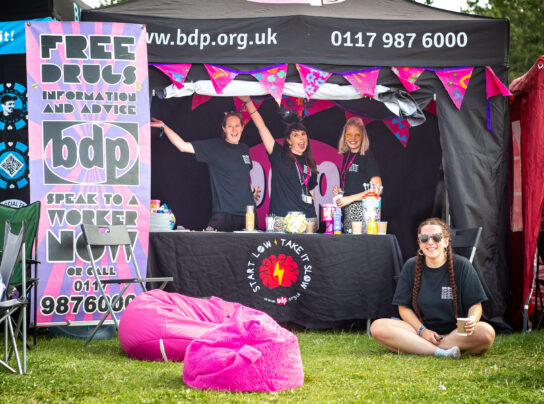 This festival season is set to be our busiest yet and we can't wait! After the dreaded c-word cancelled all events in 2020…
For most of you, it's been over a year since you last let loose on a dancefloor which means you might be a bit out of prac…
The core aim of The Drop is to reduce drug-related harm in Bristol's night time economy – but how should we achieve …