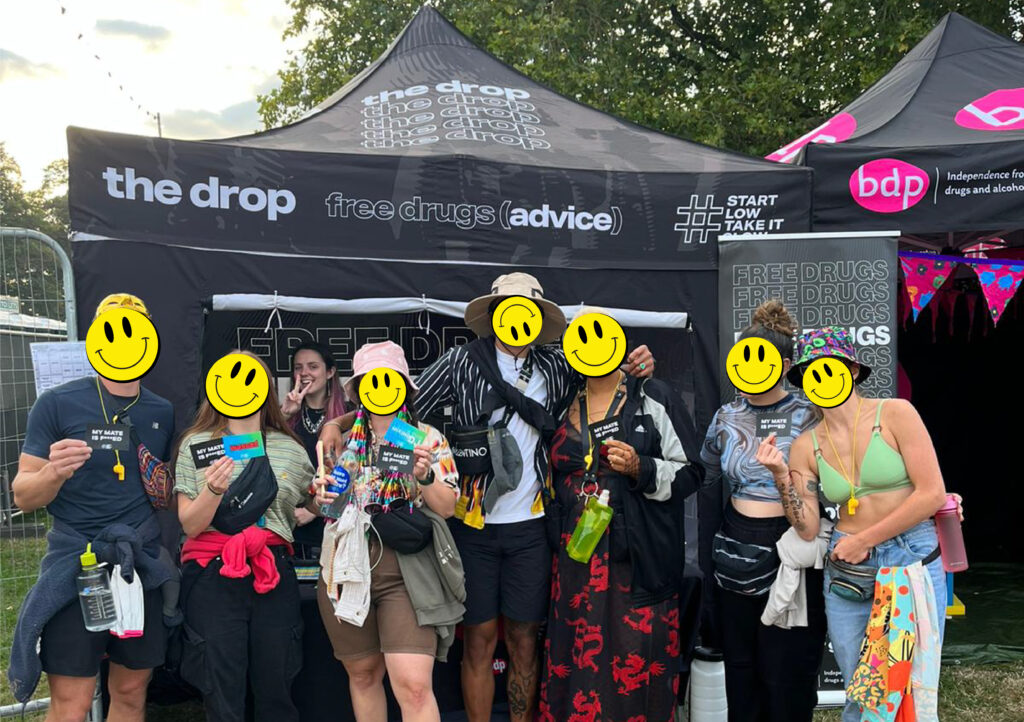 This year, BDP's Club & Festival Harm Reduction service, The Drop, has gone from strength to strength. Last weekend we packed up our outreach materials and headed to Eastville Park for Tokyo World Festival. This was the last festival in our packed summer schedule, and it was a good one. Over the weekend, the team engaged over 700 attendees with advice and information about drug and/or alcohol use.
The Drop was established to reduce the harm that people who take drugs in a party setting face. Taking drugs has inherent risks, but through education and equipment, we can go some way to mitigate these risks and enable people to be safer if they chose to use drugs. An excellent example of this is informing people about the risks of mixing certain substances and knowing best practices for taking particular drugs. As well as information, we also hand out resources to reduce harm, including equipment to make nasal insufflation (snorting) less damaging to the soft tissues in the nose, water bottles, condoms and informational handouts with our details in case people feel they'd benefit from further support.
We caught up with Sorcha Ryan, our Club & Festival Harm Reduction Lead, for the low-down from the weekend.
BDP: It's been a bumper year for you and The Drop. How many events have you been to this year?
Sorcha: Yep, it's been a busy one. We've been at 22 so far and spoken to over 2000 people. Some highlights were Rave on Avon, Pride, LSTD, Groove Armada, Hospitality on the Harbour, Valley Fest, Forwards & Tokyo World. Plus, we've got more events coming up, including numerous freshers' events and club nights.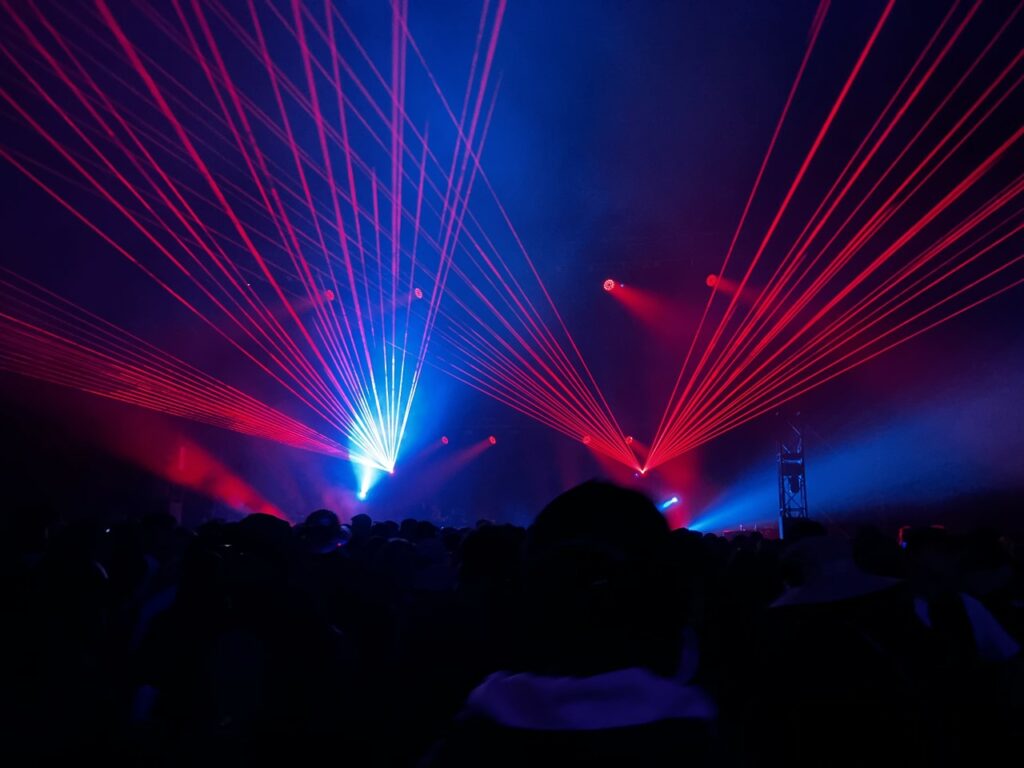 BDP: How was Tokyo World this past weekend?
Sorcha: Tokyo World was one of our most successful events of the year. We spoke to over 700 attendees over the weekend and had really positive engagement from members of the medical and security teams.
BDP: What was the thing the people you spoke to wanted to know the most?
Sorcha: Most people want to know about different drug combinations, what effects to expect and whether those combinations are likely to cause an adverse reaction. They're really useful questions because we know that people often take a wider range of drugs at festivals.
BDP: What was the response from the people you spoke to about The Drop being present?
Sorcha: People are overwhelmingly positive about us being at festivals and other events. People recognise that drugs are always present (no matter how strict the searches are at the gate) and that the best way to reduce harm is to educate people on safer use. When we speak to older attendees, they often comment on how they wish services like The Drop had been around when they were younger so they could've avoided learning about dosage and drug combinations through trial and error!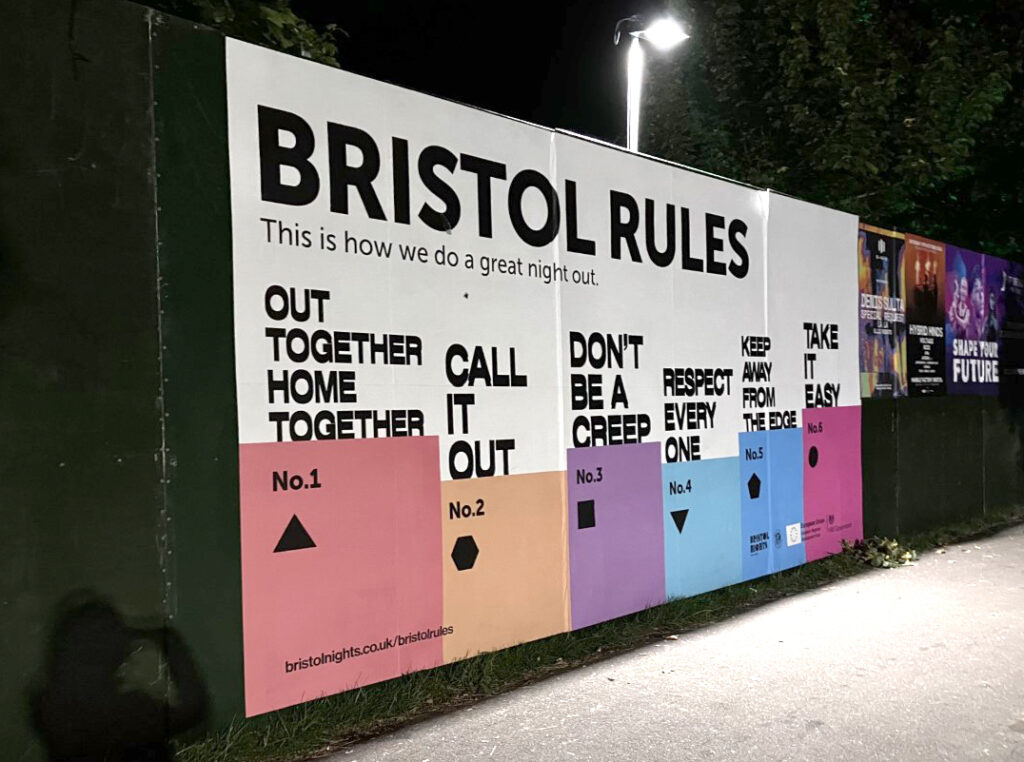 BDP: So, have you got plans for the winter and festival season next year?
Sorcha: Now festival season is over, we'll move from festival fields to nightclubs for winter. We've already got events booked in at Motion and Loco Klub and hope to start attending events at some of the newer venues in Bristol. This is always a busy part of the year for us because as well as being at events, we have outreach sessions at both universities' freshers events to engage with new students. We hope our festival season for 2023 will be bigger and better than ever and to run more talks at events like the one we did on harm reduction in the night-time economy at Forwards Festival at the start of September.
Thanks for your time Sorcha. If you want to stay up to date with what the drop is up to, follow them on Instagram via @TheDrop_BDP.