We catch up with Prism (our dedicated LGBT+ support service) during one of the busiest times of their year to find out how they've been raising awareness of sexual health and helping people across Bristol reduce the harm that drugs can cause them.
---
On Friday we joined the World AIDs Day vigil at St James' Priory. Hosted by Brigstowe and Terrence Higgins Trust, the event was held to remember those who have been lost to HIV/AIDS and to challenge HIV stigma.
"It was an emotional service this year as the UK moves into what is, hopefully, the beginning of the end of HIV transmission," said BDP's Emma Wells. "Hugh developments are being made in access to PrEP, PEP and HIV medication in the UK including new medications which will be injectable or implants rather than a daily pill."
Part remembrance, part celebration, part action – the event featured testimonies from those living with HIV, a speech by MP Thangam Debbonaire raising the important issue that across the world there are still people that do not have access to any HIV medication, and a moving performance by Sing Out Bristol.
---
On Saturday we kick-started our busy weekend raising the profile of Prism and promoting harm reduction in Bristol's busy nightlife scene. At the Southern HiBearnation Christmas market, held at Bristol Bear Bar, we provided visitors with a range of information and resources about our services and answered people's queries or questions about how we can help.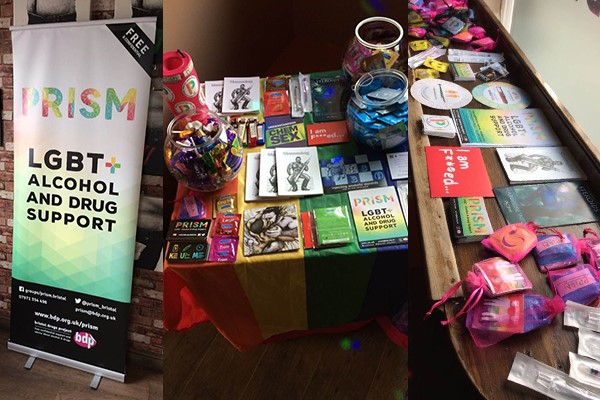 Later that day you could find us dancing the night away at The Loco Club where Horseplay and Don't Tell Your Mother joined forces for a special party to conclude Brigstowe's series of World AIDS Day awareness events. We joined Brigstowe and the PrEP awareness team Prepster, to provide outreach support during the busy night.
The next day, we attended the "premier men's fetish club" RAVEN for their monthly Sunday night event. "We had lots of great engagement around safer sex practice at RAVEN and gave out plenty of useful resources and condoms," said Mike from our Prism team. "It's great being out at nights like this to help raise the profile of Prism and present a friendly face people can recognise and trust."
---
After the busy weekend our Prism team were invited to Bristol University's LGBT+ Society on Monday evening, as part of their annual SHAG Week – exploring a range of topics promoting Sexual Health Awareness and Guidance. Hot on the heels of last week's successful Lets Talk Chemsex event, we talked to students about chemsex, consent and the culture of drugs and alcohol at universities.
---
Hosting an event yourself? Why not invite our Prism team along for outreach support or an educational workshop.