Throughout COVID 19, BDP has continued our support of people on the streets, in emergency accommodation as well as those who are housed. Part of our commitment to finding the missing millions who are living with Hepatitis C has been to offer regular testing at all 5 of the emergency accommodations in Bristol, and we will continue to do so with support from the Hepatology team at the BRI. People with positive results are offered treatment straight away and BDP continues to work closely with Hepatology and the Hep C Trust to ensure clients stay on the treatment pathway.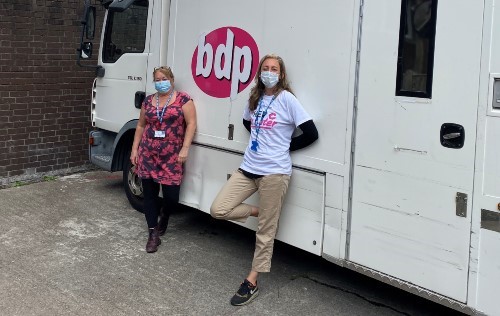 We caught up with Jess Oke is the Bloodborne virus nurse at BDP
When we do outreach at the venues we take great care to adhere to government guidelines, I always wear PPE when performing tests which can make it harder to have that human connection with people but it's important to keep both parties safe. It's been a real challenge to continue offering our testing service during Covid 19 but we are all working incredibly hard to make sure our vulnerable service users get the care and attention they deserve and need. Even though it's been challenging it's been such a benefit to my own mental health to keep working during the pandemic. We want our people to know we are here for them no matter what.
Did you know?
---
Most people who have Hep C do not have symptoms for a long time and do not know they have it
All we need to test is a prick of blood from the finger
Hep C can be cured in 12 weeks with one pill a day – It really is that easy!
Treatment is available to everyone on the NHS
Side effects are mild or non-existent, most people on treatment carry on with their lives and work as normal
You can catch Hep C more than once
For more information please visit
If you have any further questions please call BDP helpline on 0117 987 6000