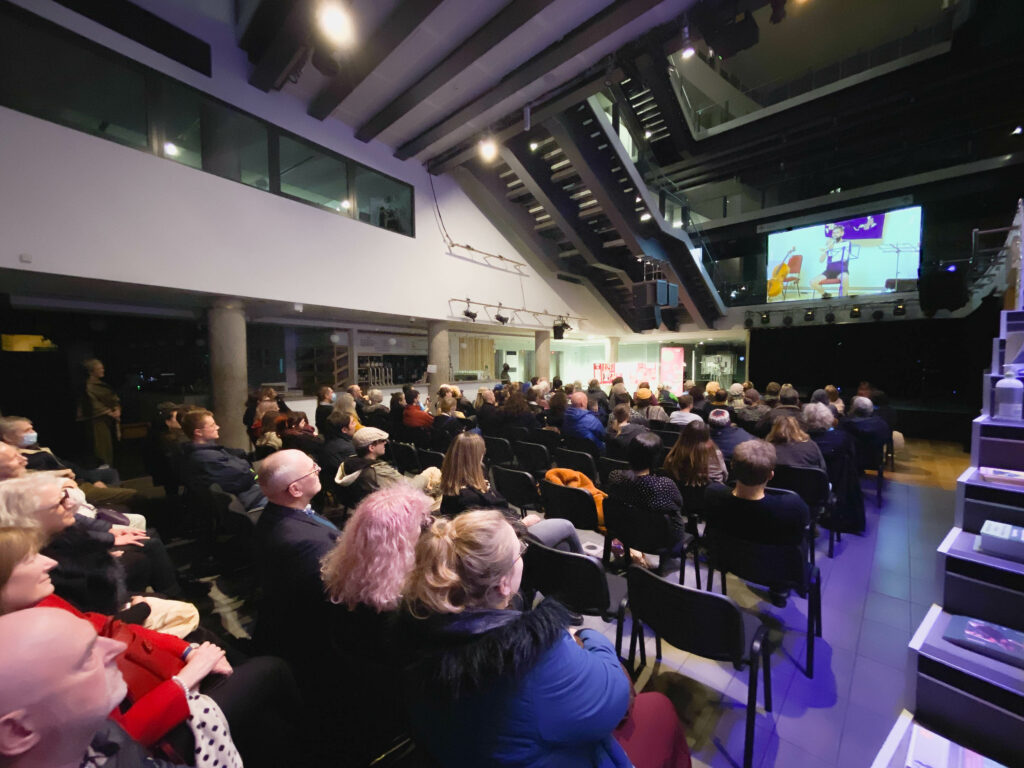 On Tuesday 23rd November, we presented the premiere of Filling the Void, a documentary about Bristol Recovery Orchestra. We had a fantastic evening enjoying live music and watching two films in the amazing space provided by Bristol Beacon. It was great to see so many of you the after the tickets sold out in advance. Our own Rising Voices Recovery Choir kicked things off with two moving songs and contributions from choir members about the vital role Rising Voices plays in their lives. We Are Not Saints artist Ella Hayes stunned the crowd with her fantastic voice and original songs, while Deiphos Jay continued the evening with his catchy tunes and engaging stage presence. Man Like Malcolm rounded out the musical performances with his incredible guitar playing and on-stage patter that had the crowd in stitches.
About the film
Filling the Void showcases the music and moving personal stories of Bristol Recovery Orchestra – A creative support group run by BDP and supported by Bournemouth Symphony Orchestra. It features interviews with the players and organisers concluding with the orchestra performing at the Reconnect, Recharge, Recover event in July 2021.
You can watch the film in full below.
Want to see more from BDP Creative Communities? Check out this playlist of our previous videos on our YouTube channel
About the director
Irene Carter is a documentary filmmaker originally from Bristol and based in London. She began her career studying documentary at Open City Doc School, where her graduation film was nominated for a prestigious RTS award. Her films focus on compelling stories about complex people with heart and humour at their centre. She works as a freelance filmmaker and develops new documentary ideas for a production company in London.
Thanks
Thank you to Bristol City Council's Originator Fund, Bournemouth Symphony Orchestra and Bristol Beacon without whose generous financial and logistical support this event would not have been possible.
Support BDP's Creative Communities
Our Creative Community groups sit outside of our main funding streams so are entirely funded by the goodwill of people like you by donating and by grant providers and other not-for-profit funders. If you value the work we do to support people through these creative support groups, please donate by visiting this link – https://bdp.enthuse.com/creativecommunities#!/